Surviving & Thriving in a Post-Pandemic Age
Leadership Discussions with Ed Marx & Anthony Guerra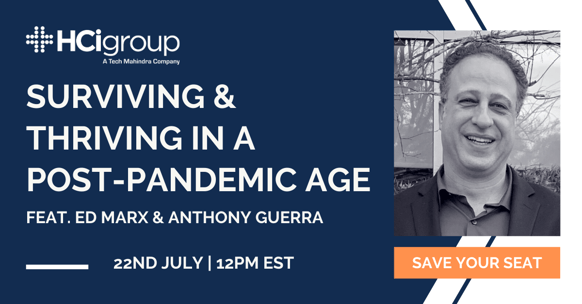 Following insightful leadership discussions with Bill Russell, Dr. Toby Cosgrove, and Scott Becker, Ed Marx will next be joined by Anthony Guerra for a 30-min discussion on leadership competencies in the post-pandemic age.
Anthony has been interviewing leading CIOs for over 15 years and will share his keen insights on how the role has changed over time and the new skills required to survive and thrive. Listen in as Ed and Anthony talk best practices and steps you can take today to ensure your readiness for tomorrow.
Complete the form to register for the live webinar ---->
Hosted by:
Edward Marx - Consultant & Advisor to healthcare organizations on a digital transformation journey and current Chief Digital Officer at The HCI Group. Leader in the healthcare industry and former CIO at some of the nation's largest health systems. Author of the 2019 best seller "Voices of Innovation" and co-author of "Healthcare Digital Transformation", publishing in May.
Anthony Guerra is the founder and Editor-in-Chief of healthsystemCIO, a publication he has led since 2010. Earlier, Guerra was Editor-in-Chief of Healthcare Informatics magazine and, prior to that, served as managing editor of Wall Street & Technology magazine. Guerra holds a master's degree in Journalism from Boston University.
Complete the form to register for the live webinar ---->