The Next Great Advance in Virtual Care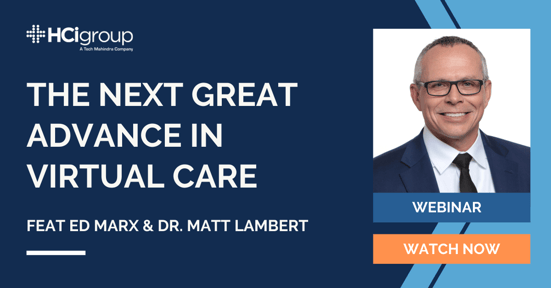 Following insightful discussions with Dr. Ram Raju, Dr. Dave Chokshi, and Russ Branzell, Ed Marx was joined by Dr. Matt Lambert for a 30-min discussion on virtual care in daily practice.
Dr. Lambert has practiced medicine for over 20 years and is a leader in virtual care. Hear stories and lessons learned from his experiences spanning the country. Right now, according to Dr. Lambert, one of the main challenges faced today is that the virtual care sector is fragmented. In response to Covid-19, health systems have hastily erected a patchwork infrastructure to support the increased demand for virtual care. This infrastructure is often fragmented into multiple (and sometimes redundant) portals and applications that provide virtual care services to patients.
In this live recording session driven by audience Q&A. Ed and Dr. Lambert discuss:


The current state of Virtual Care

The evolution of Virtual Care

The next great advance in Virtual Care
Complete the form to watch the webinar ---->
Hosted by:
Edward Marx - Consultant & Advisor to healthcare organizations on a digital transformation journey and current Chief Digital Officer at The HCI Group. Leader in the healthcare industry and former CIO at some of the nation's largest health systems. Author of the 2019 best seller "Voices of Innovation" and co-author of "Healthcare Digital Transformation", publishing in May.
Matt Lambert, MD is the Chief Medical Officer for The HCI Group and a practicing, board certified emergency medicine physician. Previously with Clinovations and the Advisory Board, he served as the CMIO for New York City Health and Hospitals, leading the Epic implementation for the nation's largest public health system and as the Physician Program Director for the Epic implementation at the University of Washington in Seattle, WA. He has authored books on healthcare reform: Unrest Insured and Close to Change: Perspectives on Change and Healthcare for a Doctor, a Town, and a Country.
He completed his undergraduate work and received his M.D. from Marshall University and trained in emergency medicine at West Virginia University. He currently lives in Washington, DC.
Complete the form to watch the webinar ---->