Virtual Care in Population Health with

Ed Marx &

Dr. Dave Chokshi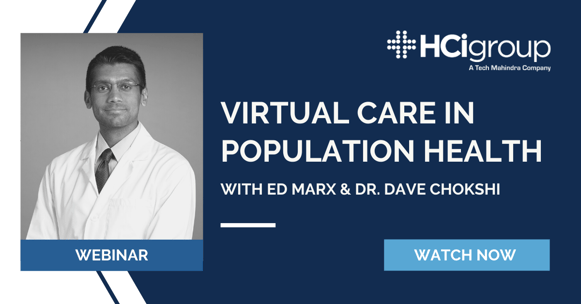 Join Ed Marx &

Dr. Dave Chokshi

for a 30-min discussion on virtual care in Population Health
In this Live webinar series, interact with global healthcare leaders as they discuss the challenges and opportunities related to virtual care. In this session, Ed Marx interviews Dr. Dave Chokshi, Chief Population Health Officer at New York City Health + Hospitals (H+H) on virtual care in Population Health.
Complete the form to stream the webinar ---->
Hosted by:
Edward Marx - Consultant & Advisor to healthcare organizations on a digital transformation journey. Leader in the healthcare industry and former CIO at some of the nation's largest health systems. Author of the 2019 best seller "Voices of Innovation" and co-author of "Healthcare Digital Transformation", publishing in May.
Follow Ed on Twitter: @marxtango
Dr. Dave Chokshi, MD, MSc, FACP is Chief Population Health Officer at New York City Health + Hospitals (H+H)—the largest public health care system in the U.S. His duties include leading a team dedicated to health system improvement, spanning innovative care models, population health analytics, primary care transformation, disease prevention, social determinants of health, care management, and implementation research.
Dr. Chokshi practices primary care (internal medicine) at Bellevue Hospital and is a Clinical Associate Professor of Population Health and Medicine at the NYU School of Medicine. His prior work experience spans the public, private, and nonprofit sectors, including as a White House Fellow at the U.S. Dept. of Veterans Affairs, where he was the principal health advisor in the Office of the Secretary. In 2016, President Obama appointed him to the Advisory Group on Prevention, Health Promotion, and Integrative and Public Health.
He trained in internal medicine at Brigham & Women's Hospital, received his M.D. with Alpha Omega Alpha distinction from Penn, earned an MSc in global public health as a Rhodes Scholar at Oxford, and graduated summa cum laude from Duke. ​​
Follow Dr. Chokshi on Twitter: @davechokshi