Virtual Care Series:

Ed Marx & Dr Ram Raju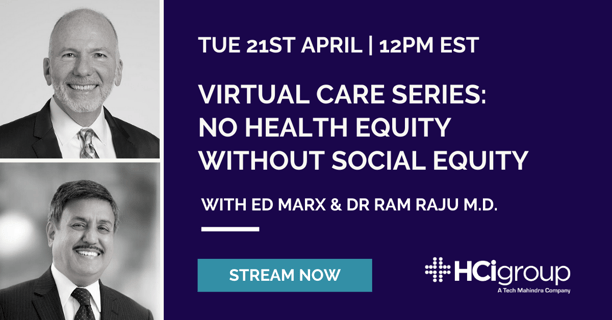 Join Ed Marx & Dr Ram Raju for a 30-min discussion on virtual care.
In this interview, Ed interviews Dr Ram Jaju, MD, Senior Vice President and Community Health Investment Officer of Northwell Health. Join Ed and Dr. Raju as they discuss the unprecedented acceleration of digital transformation, specifically virtual care, around the globe and the NYC region. Dr. Raju will weave in his work and passion around social determinants and how there is no health equity without social equity. Does virtual care close or widen the equity?
Complete the form to watch the webinar ---->
Hosted by:
Edward Marx - Consultant & Advisor to healthcare organizations on a digital transformation journey. Leader in the healthcare industry and former CIO at some of the nation's largest health systems. Author of the 2019 best seller "Voices of Innovation" and co-author of "Healthcare Digital Transformation", publishing in May.
Follow Ed on Twitter: @marxtango
Ram Raju, MD, is the Senior Vice President and Community Health Investment Officer of Northwell Health. Prior to Northwell, Dr. Raju has served as president and CEO of NYC Health + Hospitals, CEO for the Cook County Health and Hospitals System in Chicago.
Dr. Raju served as vice-chair of the Greater New York Hospital Association and currently sits on the boards of numerous city, state and national health care organizations, including the American Hospital Association, the New York Academy of Medicine and the Asian Health Care Leaders Association.
Modern Healthcare selected Dr Raju as one of the "100 Most-Influential People in Healthcare", as well as naming him one of the "Top 25 Minority Executives in Healthcare" and one of the "50 Most-Influential Physician Executives in Healthcare." In 2013, he was named a Business Leader of Color by Chicago United.
Follow Dr Raju on Twitter: @RamRajuMD
Complete the form to watch the webinar ---->