Leadership Insights with Russell Branzell, Chris Belmont and Ed Marx
Ideas You Can Apply Today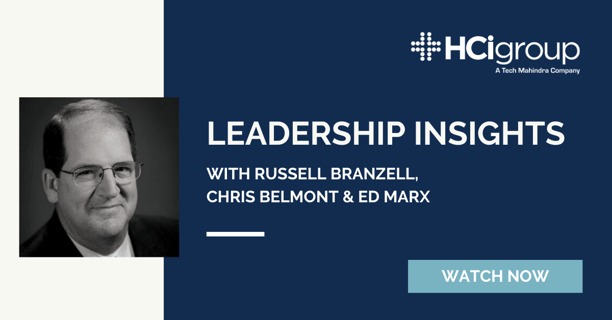 Join Russell Branzell, Chris Belmont, and Ed Marx for a 30-min discussion on leadership.
We were excited to host our latest guest in the HCI Leadership Insights Series, Russ Branzell. Russ is the President of CHIME and previously a serial CIO. As President of CHIME, Russ has a direct ear to CIOs around the globe and has a comprehensive view of trends and best practices. While not a COVID-19 specific interview, we will touch on several topics but hone in on the post-COVID future and how CIOs should prepare themselves and their organization for the dramatic transition.
Complete the form to watch the webinar recording ---->
Hosted by:
Edward Marx - Consultant & Advisor to healthcare organizations on a digital transformation journey. Leader in the healthcare industry and former CIO at some of the nation's largest health systems. Author of the 2019 best seller "Voices of Innovation" and co-author of "Healthcare Digital Transformation", publishing in May.
Follow Ed on Twitter: @marxtango
Chris Belmont - Chris Belmont has more than 35 years of leadership in some of the world's most respected patient care organizations. He is the former Senior Vice President and Chief Information Officer of MD Anderson Cancer Center in Houston, ranked the No. 1 cancer center in the nation by U.S. News & World Report. He also previously served as CIO and Senior Vice President of Ochsner Health System, Louisiana's largest nonprofit, academic, multispecialty healthcare delivery system.
Follow Chris on Twitter: @CBelmont88
Russell Branzell is the CEO and president of the College of Healthcare Information Executives (CHIME) and its affiliate associations: the Association for Executives in Healthcare Information Security (AEHIS), the Association for Executives in Healthcare Information Technology (AEHIT) and the Association for Executives in Healthcare Information Applications (AEHIA).
Follow Russell on Twitter: @CHIMECEO
Complete the form to watch the webinar recording---->