CEO to CEO Leadership Perspectives: Leading in Times of the Unknown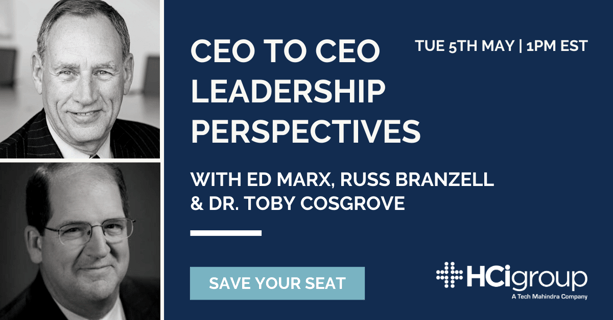 Stream the recording
Join Dr. Toby Cosgrove, former Cleveland Clinic CEO and Russ Branzell, CEO of CHIME, in this Live interactive webinar. While host Ed Marx will tee up the exchange, listen as Russ digs deep bringing out leadership insights from one of the foremost healthcare leaders of our era.
Complete the form to stream the session ---->
Hosted by:
Edward Marx - Consultant & Advisor to healthcare organizations on a digital transformation journey. Leader in the healthcare industry and former CIO at some of the nation's largest health systems. Author of the 2019 best seller "Voices of Innovation" and co-author of "Healthcare Digital Transformation", publishing in May.
Follow Ed on Twitter: @marxtango
Russell Branzell is the CEO and president of the College of Healthcare Information Executives (CHIME) and its affiliate associations: the Association for Executives in Healthcare Information Security (AEHIS), the Association for Executives in Healthcare Information Technology (AEHIT) and the Association for Executives in Healthcare Information Applications (AEHIA).
Follow Russell on Twitter: @CHIMECEO
Toby Cosgrove, MD, is former CEO and President of Cleveland Clinic (2004-2017), and currently serves as Executive Advisor to Cleveland Clinic. He went to the University of Virginia School of Medicine received a Bronze Star in the U.S. Air Force in Vietnam. As a cardiac surgeon, he performed more than 22,000 operations and holds 30 patents for medical innovations. He grew Cleveland Clinic's international presence; oversaw the significant expansion of clinical services, IT and patient visits; and nearly doubled its facilities footprint.