Mobile Medicine:
Overcoming People, Culture, and Governance | Book Launch
1st Nov 2021
4pm EST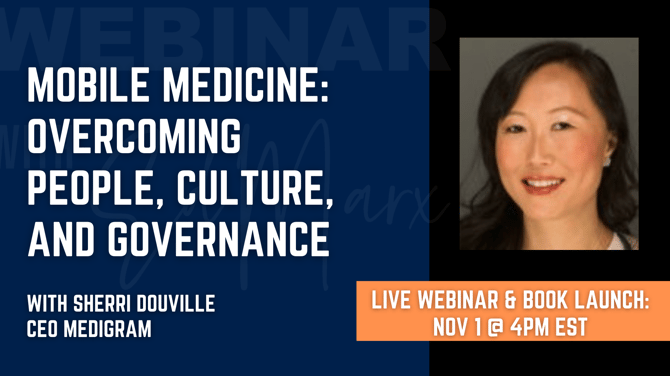 Webinar

Overview
What happens when you unleash 27 multidisciplinary, multi-industry leaders across health systems, the medical device industry, and BioPharma all passionate about saving lives together in a book?
You get the definitive guide for mobile medicine.
Join author Sherri Douville and host Ed Marx as we dive into the purpose of the book and why everyone should read it. You will be able to interact directly with the author herself and ask your questions LIVE
"The healthcare industry is undergoing a transformation of exponential change and opportunity that bears daunting challenges. To incorporate groundbreaking technologies, we as leaders are building our people, skills, cultures, and leadership to capitalize on and refine those technologies to address the urgent needs of today and tomorrow. This timely work is written by a world-class multi-disciplinary team in Healthcare IT, medicine, and business. This breadth and collaboration are what's required to deliver this very timely cross-functional discussion and fantastic action planning resource. This book is required reading for any organization looking to lead the next wave of healthcare technology to improve care quality, patient safety, and clinician satisfaction to help us save more lives and keep people healthy across the entire care continuum."
- Aaron Miri,
Senior Vice President, Chief Digital & Information Officer at Baptist Health
& Co-Chair for the U.S. Department of Health and Human Services' Federal Health IT Advisory Committee