The Post Pandemic
Leadership Conundrum
Balancing Expenses While Investing in Digital Transformation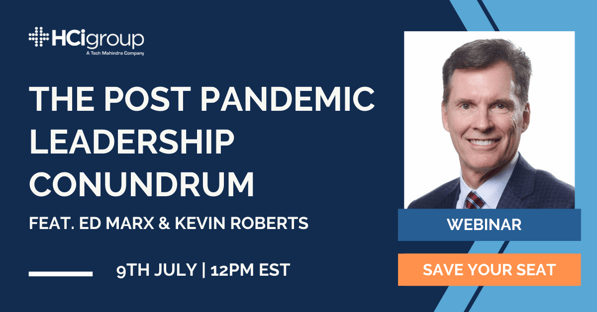 Join Ed Marx and leading CFO Kevin Roberts in this 30-minute live and interactive webinar where they talk about the CFO role in healthcare digital transformation.
As hospitals look to regain control of their balance sheets, where will they place their big bets for the future? How do CFO's look at the balancing act of reducing expenses while funding digital transformation? Gain valuable insights that can better position your organizations success in navigating the post-pandemic environment.
Complete the form to register for the live webinar ---->
Hosted by:
Edward Marx - Chief Digital Officer at The HCI Group, as well as a consultant & advisor to healthcare organizations on their digital transformation journey. Marx is a leader in the healthcare industry and former CIO at some of the nation's largest health systems. Author of the 2019 best seller "Voices of Innovation" and co-author of "Healthcare Digital Transformation", publishing in May. He was Chief Information Officer at Cleveland Clinic, where his responsibilities included digital solutions as well as information technology. Prior to joining Cleveland Clinic, Edward served as the CIO for The Advisory Board, Texas Health Resources and University Hospitals. ​
Kevin Roberts, MBA, CPA is executive vice president and chief financial officer at Geisinger. He oversees all financial activities and serves on the executive leadership team.
Mr. Roberts joined Geisinger in April 2018, bringing more than 30 years of professional experience. He has an extensive background in business development and growth, corporate finance, health plans, mergers and acquisitions, financial operations, technology and investment management in large, complex, multi-site healthcare organizations.
Previously, he served as senior vice president and chief financial offer for BJC HealthCare based in St. Louis, Missouri, a 15-hospital health system with more than 30,000 employees and $5 billion in net revenues that includes both Barnes-Jewish Hospital and St. Louis Children's Hospital. He has also held executive level financial positions at University Hospitals Health System and the Cleveland Clinic, both in Ohio, and Proctor Hospital in Peoria, Illinois.
Complete the form to register for the live webinar ---->