Race Relations in Healthcare Technology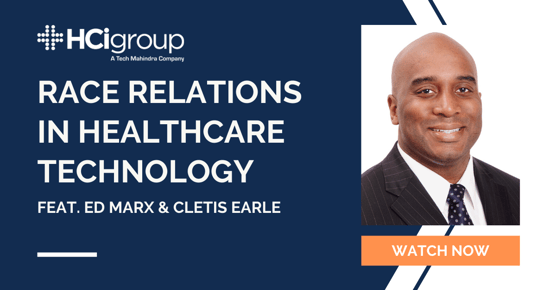 Join Ed Marx and Cletis Earle for this crucial conversation.
Systematic racism has captured our nations attention. Generations of inequity are front and center. Has healthcare technology been immune to racial disparity? Have we been complicit and complacent?
Join Edward Marx and Cletis Earle as they explore racism in the healthcare technology experience and most of all, the obligation we as leaders have to ensure equality for all.
Complete the form to watch the webinar recording ---->
Hosted by:
Edward Marx - Chief Digital Officer at The HCI Group, as well as a consultant & advisor to healthcare organizations on their digital transformation journey. Marx is a leader in the healthcare industry and former CIO at some of the nation's largest health systems. Author of the 2019 best seller "Voices of Innovation" and co-author of "Healthcare Digital Transformation", publishing in May. He was Chief Information Officer at Cleveland Clinic, where his responsibilities included digital solutions as well as information technology. Prior to joining Cleveland Clinic, Edward served as the CIO for The Advisory Board, Texas Health Resources and University Hospitals. ​
Cletis Earle, CHCIO - As senior vice president and chief information officer, Cletis Earle provides vision and leadership for developing and implementing information technology (IT) initiatives across Penn State Health and Penn State College of Medicine.
Prior to his 2019 arrival in Hershey, Earle was senior vice president and chief information officer for Kaleida Health/Great Lakes Health of Western New York. There, he provided leadership for the IT team, overseeing strategic and tactical planning, plus development and coordination of the IT platform.
Earle previously served as vice president and chief information officer at St. Luke's Cornwall Hospital in Cornwall, N.Y. He began his IT health career as a support manager at Brooklyn Queens Health Care Inc. in Brooklyn, N.Y., eventually taking on roles as director of technology and vice president, chief information and privacy officer within the organization.
Earle is a member and former chairman of the College of Healthcare Information Management Executives. He holds a bachelor's degree in psychology from the College of New Rochelle in New Rochelle, N.Y., and a master's degree in information systems from Strayer University in Washington, D.C.
Complete the form to watch the webinar recording ---->