Digital Transformation…What Healthcare can Learn from Retail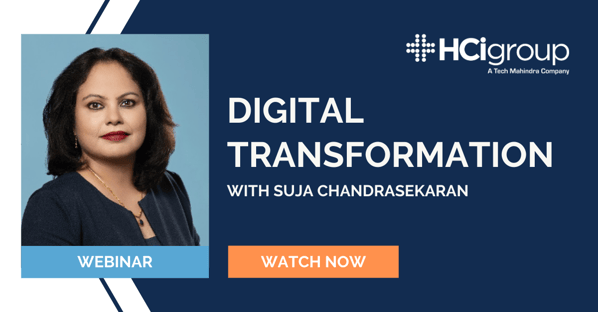 Join Ed Marx &

Suja Chandrasekaran

for a 30-min discussion on Digital Transformation.
In 2019, CommonSpirit recruited a professional from outside of healthcare to help lead their digital transformation and information systems. Suja Chandrasekaran became CommonSpirit first chief information and digital officer. Previous to CommonSpirit, Suja served in executive roles for Kimberly-Clarke, Wall-Mart, Timberland and Nestle.

Engage directly with us as we discuss the trend towards hiring non-healthcare professionals into these key transformational roles. Hear Suja's perspective on the skills required to serve in such executive roles in the post-pandemic age. Learn about best practices from retail and how they apply to healthcare.
Complete the form to watch the webinar recording ---->
Hosted by:
Edward Marx - Consultant & Advisor to healthcare organizations on a digital transformation journey and current Chief Digital Officer at The HCI Group. Leader in the healthcare industry and former CIO at some of the nation's largest health systems. Author of the 2019 best seller "Voices of Innovation" and co-author of "Healthcare Digital Transformation", publishing in May.
Suja Chandrasekaran is Senior EVP, Chief Information and Digital Officer at CommonSpirit Health. She is an industry recognized Digital Transformation leader. Previously she has been chief of information and digital technologies at large companies including Kimberly-Clark Corporation, Walmart Inc, Nestle S.A and The Timberland Company.

Suja serves as a non-executive director, board member on the boards of public companies - American Eagle Outfitters (NYSE: AEO) and Barry Callebaut (BARN: SW). Suja is passionate about investing and developing others and has a reputation as talent developer and mentor in the industry. She mentors numerous individuals - tech and business leaders, women in technology, Asian American leaders, startup founders/CEOs.

Suja is an industry expert in Digital marketing, customer experience, eCommerce, omnichannel, artificial intelligence and scaled enterprise digital transformations. Suja brings significant business technology, people/organizational leadership, M&A experiences and global consumer and regulatory expertise.

Complete the form to watch the webinar recording ---->