Three Categories of Motivation Theory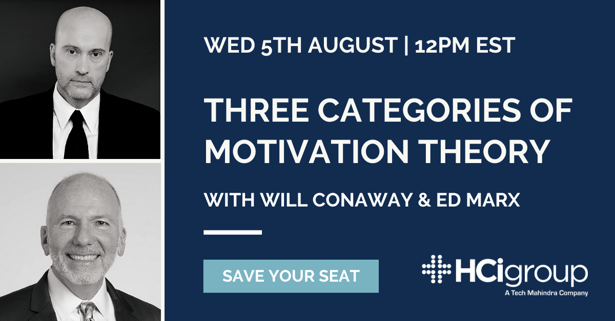 Join Ed Marx and Will Conaway in this 30-minute live and interactive webinar where they talk about the Psychology of leadership.
"A mentor encouraged me early on to "work with the motivated, don't work to motivate". I adopted this principle and it has served me well. We all have limited time and resources, so you want to spend these in areas where you get the biggest returns." - Will Conaway
I am thrilled to have Will Conway as our guest in the continuation of our Leadership Series. After his accolades will contest, Will is a leadership guru who not only espouses theory, whilst also having a proven track record of execution. A rare combination! Join us as we discuss the psychology of leadership, specifically motivation.
Complete the form to register for the live webinar ---->
Hosted by:
Edward Marx - Chief Digital Officer at The HCI Group, as well as a consultant & advisor to healthcare organizations on their digital transformation journey. Marx is a leader in the healthcare industry and former CIO at some of the nation's largest health systems. Author of the 2019 best seller "Voices of Innovation" and co-author of "Healthcare Digital Transformation", publishing in May. He was Chief Information Officer at Cleveland Clinic, where his responsibilities included digital solutions as well as information technology. Prior to joining Cleveland Clinic, Edward served as the CIO for The Advisory Board, Texas Health Resources and University Hospitals. ​
Will Conaway is the Vice President of Provider Delivery for The HCI Group, and an award-winning CIO and Technology Executive. He has extensive experience as an executive leader in healthcare, organizational strategy, organizational operations, negotiations, mergers & acquisitions, leadership, international business, information technology and transformation, consulting, and delivery. Will is recognized for his continuing contributions to strategic planning and innovation in healthcare, and is a highly sought-after subject matter expert, speaking at universities and technology councils across the country. He was the keynote speaker at the Cornell University's August 2019 ILR School's EMHRM Graduation, and he was the featured speaker at Kansas State University in October of 2019.
He served on the Board of Governors at the Federation of American Hospitals, Manifest MedEx Advisory Committee (HIE), AT&T's Healthcare Advisory Council, Verizon's Healthcare, Insurance and Life Sciences Customer Advisory Board, and a member of the American Heart Association 2020 ELT. He is the Chair of Kansas State University Psychology Sciences Alumni Advisory Council, and a member of the Los Angeles World Affairs Council. Will is a recipient of Constellation's Business Transformation 150 (BT150) award, Becker's Hospital Review's 100 Hospital and Health System CIOs to Know for 2019. He was a finalist for The Millennium Alliance's 2019 Healthcare Innovator of the Year.
Complete the form to register for the live webinar ---->