Race Relations in Healthcare Technology feat. Dr. Babatope Fatuyi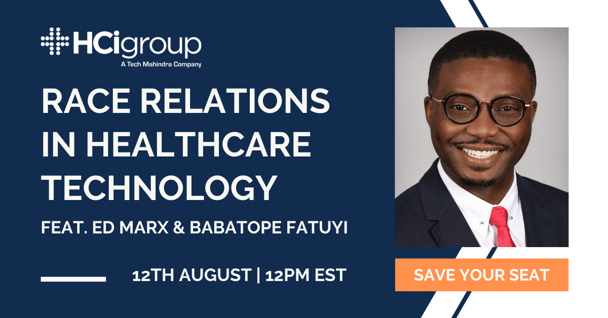 Join Ed Marx and Dr. Babatope Fatuyi for a 30 minute webinar on Wednesday, August 12th at 12pm EST.
Systematic racism has captured our nations attention. Generations of inequity are front and center. Has healthcare technology been immune to racial disparity? Have we been complicit and complacent?

In part one of our series, Edward Marx and Cletis Earle explored racism in the healthcare technology experience and most of all, the obligation we as leaders have to ensure equality for all.

In part two of our series, Edward Marx and Dr. Babatope Fatuyi explore racism from a clinician point of view. What is it like to be black and a physician in HIT today? Hear Dr. Fatuyi share his perspectives and journey, the racism he encounters, and what all of us can do to ensure equality going forward.
Complete the form to register for the live webinar ---->
Hosted by:
Edward Marx - Consultant & Advisor to healthcare organizations on a digital transformation journey. Leader in the healthcare industry and former CIO at some of the nation's largest health systems. Author of the 2019 best seller "Voices of Innovation" and co-author of "Healthcare Digital Transformation", publishing in May.

Babatope Fatuyi, M.D. - Chief Medical Information Officer for UTHealth | The University of Texas Health Science Center at Houston. Babatope Fatuyi previously served as the Physician and Healthcare Executive / Informaticist of The Advisory Board Company and Chief Medical Information Officer for NYC Health + Hospitals.
Complete the form to register for the live webinar ---->