Race Relations in Healthcare Technology feat. Myra Davis
A Series of Crucial Conversations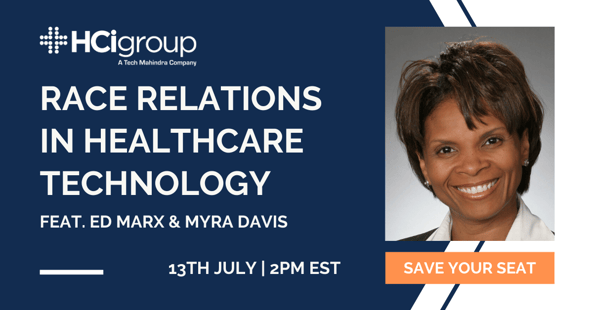 Join Ed Marx and Myra Davis for a 30 minute webinar on Monday, July 13th at 2pm EST.
Systematic racism has captured our nations attention. Generations of inequity are front and center. Has healthcare technology been immune to racial disparity? Have we been complicit and complacent? What is our obligation as leaders to help ensure equality for all?
In part one, Cletis Earle (SVP/CIO, Penn State Health) shared his experiences as a black man in healthcare technology and gave insights and practical ideas on how all of us working together can help eradicate racism.
In part two, Myra Davis (SVP/CIO Texas Children's Hospital) will share her journey as a black woman in healthcare technology. Myra will also share practical steps we can all adopt for positive change. Join Ed and Myra in their raw and honest crucial conversation.
Complete the form to register for the live webinar ---->
Hosted by:
Edward Marx - Consultant & Advisor to healthcare organizations on a digital transformation journey. Leader in the healthcare industry and former CIO at some of the nation's largest health systems. Author of the 2019 best seller "Voices of Innovation" and co-author of "Healthcare Digital Transformation", publishing in May.

Myra Davis is the Senior Vice President and Chief Information and Innovation Officer at Texas Children's. For 30 + years she has been in the profession of bridging the gap leading and communicating the opportunities and benefits of technology.
Davis has served at Texas Children's Hospital as the Director of Customer Support in Information Services; Assistant Vice President of Information Services; Vice President of Information Services and Sr. Vice President of Information Services. Prior to joining Texas Children's her career included serving roles of software development; project management; leadership positions and various consulting roles where she has not only lead technology implementations but she's had to influence the change management that's often forgotten and required for adoption and acceptance of technology to be successful.
Complete the form to register for the live webinar ---->