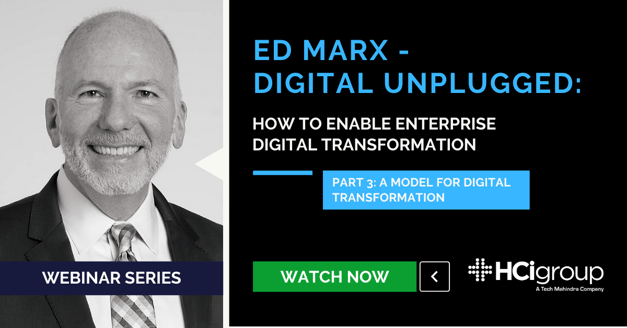 Digital Unplugged: How to Enable Enterprise Digital Transformation
Part 3: Model for Digital Transformation
Digital transformation is a reimagining of the business through a combination of technology, data, people and processes.
In Part 3 of the Digital Unplugged webinar series join Ed and his " Healthcare Digital Transformation" book co-author and friend, Paddy Padmanabhan as they share a comprehensive model for digital transformation.
Based on in-depth research and interviews with dozens of C-Suite executives over the last 6 months, they break down digital transformation into a handful of components that serve as a practical roadmap for adoption by organizations of any size or complexity. This model for healthcare digital transformation can be repurposed as an end to end solution or leveraged in a modular fashion.
If you are looking for a good baseline roadmap for comparative analysis or just a sound structure to stimulate new ideas, this best practice model is a tool you can easily adopt and customize. Ed & Paddy will walk you through each component sharing details and breaking down the meaning and the intent. Finally, each component will end with a real world case study to make the theory pop.
Learning Objectives:
Learn a best practice model for healthcare digital transformation
Understand the 7 different personas that make up "experience"
Explain the why of digital transformation to include seamless and frictionless experiences, patient and caregiver engagement and the need for design thinking
Complete the form to watch the webinar ---->
Hosted by:
Edward Marx - Consultant & Advisor to healthcare organizations on a digital transformation journey. Leader in the healthcare industry and former CIO at some of the nation's largest health systems. Author of the 2019 best seller "Voices of Innovation" and co-author of "Healthcare Digital Transformation", publishing in May.
Paddy Padmanabhan - Author, speaker and entrepreneur with over 20 years in healthcare technology markets. Paddy is the CEO of Damo Consulting, a digital transformation and growth advisory firm that works with healthcare enterprises and technology firms. Prior to starting his firm in 2014, Paddy served in leadership roles in global firms such as Accenture, Wipro, and GE and in two Silicon Valley startups that went through successful exits. Paddy is actively involved as a conference committee member for HIMSS and SHSMD and has served as a Board Member of the Illinois Chapter of HIMSS. He is the host of the Big Unlock podcast featuring C-level executives in healthcare, technology and digital health. ​
Follow Ed on Twitter: @marxtango
Follow Paddy on Twitter: @paddypadmanabha
Complete the form to watch the webinar ---->